The texture of your hair is determined by the size and shape of the hair follicle, which is a genetic trait controlled by hormones and related to age and racial characteristics. Whether hair is curly, wavy or straight depends on two things: its shape as it grows out of the follicle, and the distribution of keratin-producing cells at the roots. When viewed in cross-section, straight hair tends to be round, wavy hair tends to be oval, and curly hair kidney shaped. Straight hair is formed by roots that produce the same number of keratin cells all around the follicle. In wavy and curly hair, the production of keratin cells is uneven, so that at any given time there are more cells on one side of the oval=shaped follicle than on the other. Furthermore, the production of excess cells alternates between the sides. This causes the developing hair to grow first in one direction and then in the other. The result is wavy or curly hair.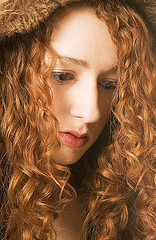 The natural color of the hair also affects the texture. Natural blondes have finer hair than brunettes, while redheads have the thickest hair. Generally speaking, hair can be divided into three categories: fine, medium and coarse and thick. Fine hair can be strong or weak; however, because of its texture, all fine hair has the same characteristic – it lacks volume. As the name suggests, medium hair is neither too thick nor too thin, and is strong and elastic. Thick and coarse hair is abundant and heavy, with a tendency to grow outwards from the scalp as well as downwards. It often lacks elasticity and is frizzy. A single head of hair may consist of several different textures. For example, fine hair is often found on temples, and the hairline at the front and on the nape of the head, while the texture over the rest of the head may be medium or even coarse.
Normal, Dry Or Oily?
Hair type is determined by the hair's natural condition – that is the amount of sebum the body produces. Treatments such as perming, coloring and hair styling will also have an effect on hair type. Natural hair types and those produced by applying treatments are described here, with advice on haircare where appropriate.
Dry Hair: It can look dull, feels dry and tangles easily. It is difficult to brush, particularly when it is wet. It is often quite thick at the roots but thinner, and sometimes split, at the ends.

Causes: Excessive shampooing, over-use of heat-styling equipment, misuse of color or perms, damage from the sun, or harsh weather conditions. Each of these factors depletes the moisture content of hair, so that it loses its elasticity, bounce and suppleness. Dryness can also be the result of a sebum deficiency on the hair's surface, caused by a decrease in or absence of sebaceous gland secretions.
Solutions: Use a nourishing shampoo and an intensive conditioner. Dry hair naturally.
Normal Hair:It is neither oily nor dry, has not been permed or colored, hold its style and looks good most of the time.

Normal hair is suited to the daily use of two-in-one conditioning shampoos. These are formulated to provide a two-stage process in one application.When the product is lathered into wet hair the shampoo removes dirt, grease and styling products. At this stage the conditioner remains in the lather. As the hair is rinsed with more water, the grease and dirt are washed away, and the micro-fine conditioning droplets are released onto the hair, leaving it shiny and easy to comb.
Oily Hair: It looks lank and greasy and needs frequent washing to look good.
Causes: Overproduction of sebum as a result of hormone disturbances, stress, hot and humid atmosphere, excessive brushing, or constantly running hands through the hair, perspiration, or a diet rich in saturated fat. The hair becomes oily, sticky and unmanageable in just a few days, or sometimes within hours.
Solutions: Use a gentle, non-aggressive shampoo that also gives the hair volume. A light perm will lift the hair at the roots and limit the dispersal of sebum. Rethink your diet; cut out as many dairy fats and greasy foods as you can. Try to eat plenty of fresh food, and drink six to eight glasses of water everyday.
Combination Hair: It is oily at the roots but dry and sometimes split at the ends.

Causes: Chemical treatments, using detergent based shampoos too frequently, overexposure to sunlight, and over-use of heat-styling equipment. Such repeated abuse often provokes a reaction in sebum secretion at the roots and a partial alteration in the scales, which can no longer fulfil their protective role. The hair ends therefore become dry.
Solutions: Use products that have only a gentle action on the hair. Excessive use of formulations for oily hair and those for dry hair may contribute to the problem. Ideally, use a product specilly designed for combination hair. If this is not possible try using a shampoo for oily hair and finish by applying a conditioner from the middle lengths to the ends of the hair only.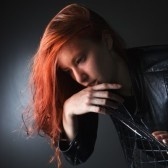 Colored Or Permed Hair: It is very often more porous than untreated hair, so it needs to be treated with gentle cleansers and good conditioners.
Color-care products will help prevent fading by protecting the hair from the damaging rays of sunlight.toducts specially designed for permed hair can also help maintain elasticity, giving longer-lasting results.

Information Courtesy "http://www.101beautysalon.com/"